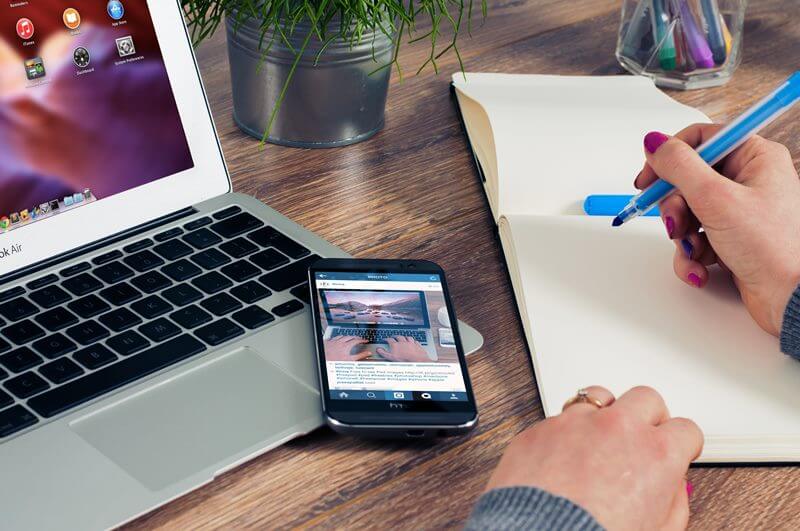 Domain Registration and Hosting
Domain registration is a very important part of blogging or any business or a brand. There are many websites that provide domain registration from normal registration of $10 to premium domain costing around $100000. The domain should have the following characteristics for selection:
A short domain of 5 characters is very hard to find, but most of the short domains are taken, and you can only buy premium domains which are short. However, it is not necessary if you are creating a small scale business such as a blog. For example, you can add two words "your – upstart" or "shop – mobile" etc. which are more logical and easy to pronounce and spreadable word.
It is very important to get a meaningful word for your domain selection which is easy to pronounce and remember. A meaningful domain should reflect your business or topic of choice. If you want to write a general blog then, you must choose an easy name to reflect your blogs' predominant use. In the market research, it has been shown that the relevant blog names have attracted more visitors. For example, recently I had registered a domain with a topic related to travel and resume, and I could find few good domains which was vistaresume.com and vista cv.com and travelspicy.com. The domains speak about the topic relevance, and customers' remember the name easily.
.com or .net or local domain
.com is a very common tld domain but very hard to find the domain names. If you are targeting international market, then it is best to get a .com domain and similarly if you have a private organisation, trust or an NGO, then you can get the .org domain. Sometimes you can opt for a .net domain, but preferably it is good to get a .com domain. Also, if your target market is country specific, then it is best to get a country specific tld such as .uk, .au, .sg or .in.
The domain name should be relevant to your topic and should be easily memorable to the users. Take some time to research and get the right domain for your blog or business. Try to get as many keywords as possible. One of the keyword research tools that you can use for researching about trending names is Google AdWords keyword planner. Adword keyword planner is an effective tool to research various keyword which is relevant and competitive in your topic of interest. Note: Never get a big domain name, just to include keywords.
Avoid hyphens and numbers
There are many accessible domains which are available with hyphens or numbers. But you must avoid these domains due to factors such as the customers forget to put hyphens during revisits.
Consider your domain name as a brand. Getting a domain which speaks loud is always attractive and invites more visitors.
You must avoid big players' trademark and brand name as a domain content. For example, bigmac is a renowned brand, and you are creating a new domain with ibigmac, it might be controversial and misleading.
You can always play with innovative brand names. For example, Travelocity, it is not two common word, but it is conjugated to a middle letter o which serves between travel and city.
Domain research tools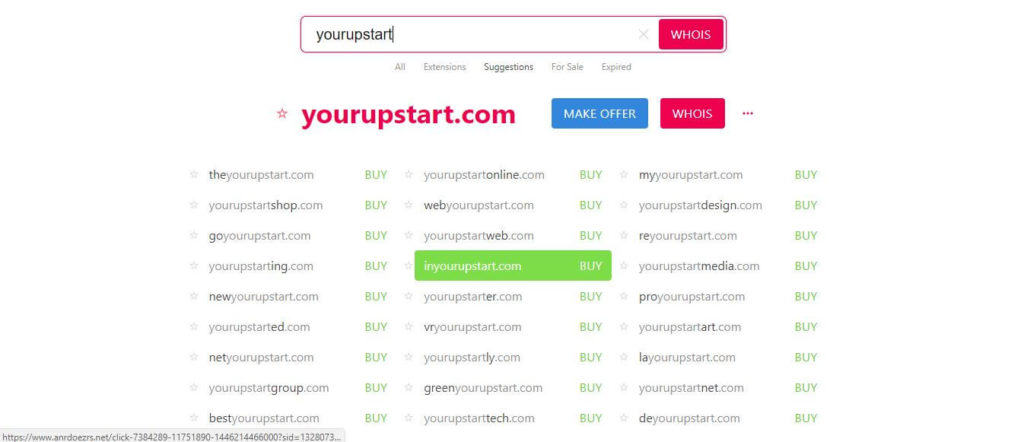 There are many domain research tools in the market. Some of the tools are as follows:
Instantdomainsearch.com: you can instantly search for any domain name availability. Also, the domain suggestion section is research about the possible domain names available with suffix or prefix.
Domainsbot.com: This is a very effective domain research tool which provides various synonym and prefix, suffix for domain availability. For example, you add many suffix options such as go, the, best etc. according to your requirements.
Expired Domains
Expired domains are a good option for getting your domain if you don't have a specific name for it. Choosing the right expired domain is necessary and the expired domain should not be of any other language, or should not have bad backlinks or penalized by Google. It is recommended that if you are a newbie, you should use a new name. I will explain in the subsequent post about choosing expired domains. There are many websites where you can check for expired domains such as dynadot.com, namejet.com etc.
Recommendation: No expired domains, choose fresh new domains.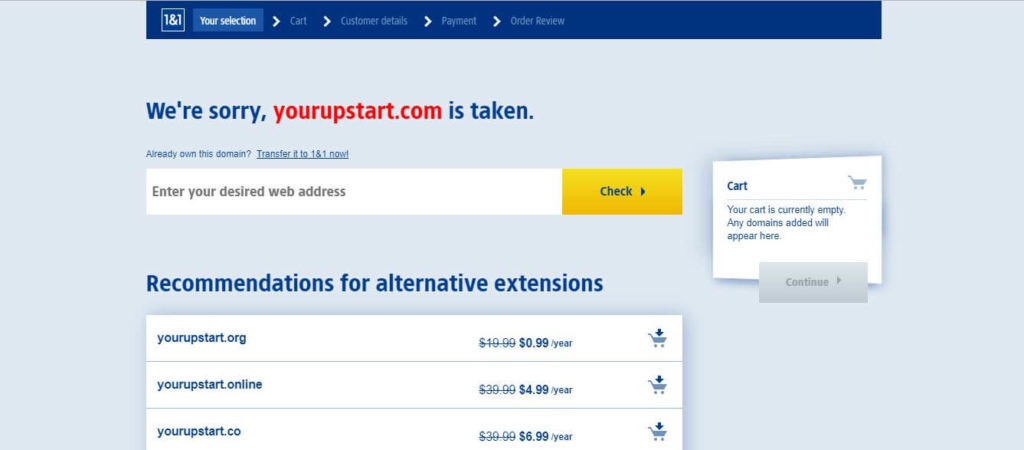 Domain Registration Company
1and1 and Go daddy: They are the industries top domain and hosting providers for any websites. Registering and hosting can be two separate processes. You can register a domain with GoDaddy and host at 1and1. But it is recommended to choose one platform for hosting and domain registration so that it can be configured easily without a hassle. 1and1 also provides free private domain registration where your contact details are hidden. It costs additional $20 with other domain registration companies.
Domain Hosting
Hosting is a space that you need to host your website online. There are many hosting providers in the market but some of the hosting providers that are cheap and used for years is the 1and1. They provide both domain registration and hosting since 1999. The best part of using 1and1 is about reliability and the best price in the market. I have been using their service since 2009 and never had any issues to contact the customer service.
Recommendation: 1and1 Domain Registration and Hosting
What are your requirements for hosting?
There are three types of hosting provided by the companies which are as follows:
Shared hosting: Shared hosting means you are sharing the resources of hosting space with other customers. This type of hosting space is cheap and have limitations on customization. For basic blog and hosting WordPress sites, it is recommended to get a shared hosting space. Although, it has a problem with the shared IP address. When an IP address is shared, a bad website in your IP address can lead to a spam site in the eyes of Google.
VPS hosting: VPS hosting is Virtual Private Hosting, it is very economical and best option to choose from a startup website to an established small scale website. VPS hosting provides you with dedicated IP address and virtual hardware sharing option on the same server. VPS servers in 1and1 are cheap and easy to configure. Please make sure you get a server with PLESK installed so that it is easy for you to conduct maintenance from Plesk panel. With the Plesk panel, anyone can control the entire system without any knowledge of shell programming. Also, if you are a webmaster, you can get a hosting without Plesk, and you can install many open source web panels through the shell command. It is preferred to use Linux system because of its reliability and security. Then you must configure the space requirements. For starting a blog or a small business, the basic plan will work, and it has an option to upgrade the plans as per the requirements and necessity.
Dedicated hosting: As the name suggests, dedicated hosting is a separate hosting used by one user. It is not recommended to spend a lot of money dedicated hosting as small-scale businesses, and WordPress blog is not recommended for this hosting space. Dedicated hosting is required when you need a scalable website with a lot of traffic such as more than 100000 users per month.
Recommendation: VPS basic hosting
Process 1: We will register two domains: one as a blog (yourupstart.com) and one as an electronic store (a python script brought from a marketplace).
The process of setting up the hosting space at 1and1
Open the URL admin.1and1.com; this is a user-friendly and easy to navigate control panel. You do not need to change anything unless you need to setup domains or emails. Click on the clouds, and you can see the details and status of your cloud server. You can also find the IP address to use Plesk onyx.
Plesk login:
Open the URL:
http://IP:8443 or, e.g. 175.278.151:8443:
8443 is the default Plesk port. Follow the instructions:
Login to your Plesk panel.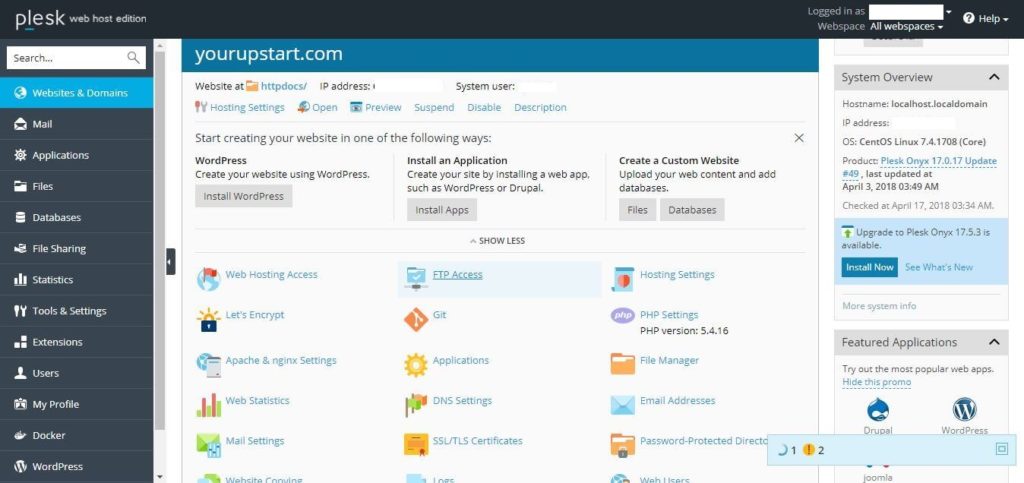 Process 2: Setup the hosting with Plesk onyx and configure according to your requirements. and add websites to your Plesk panel.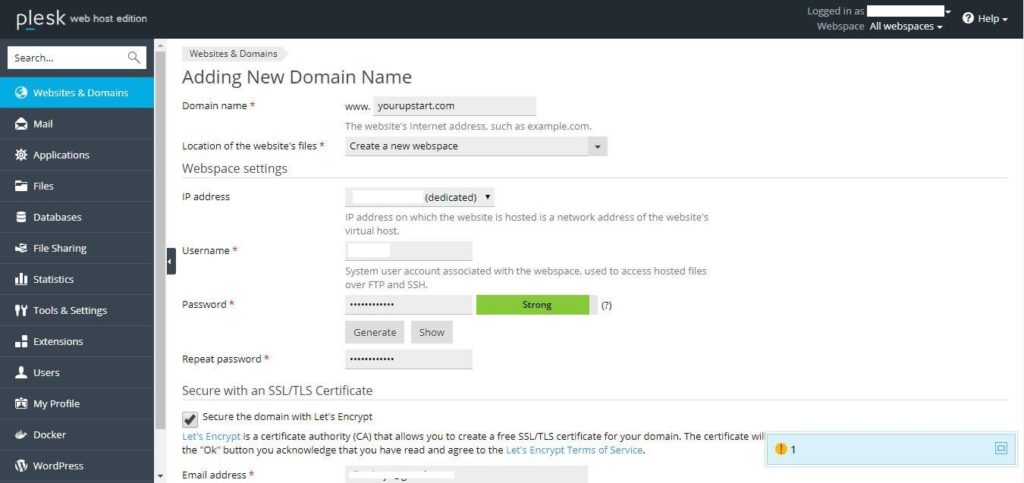 Process 3: Download WordPress blog software from the website: https://wordpress.org/download/. There is much other blogging software, but WordPress is the most famous, reliable and with a lot of features. WordPress is not only a blogging software, but it is a complete content management system. Many have built an entire website with WordPress plugins. WordPress is used for shopping cart and various other websites such as news, magazines, corporate etc.
Process 4: Go to files on the website and domains, and select the domain, you can also upload the files through FTP. I will explain you about uploading files through FTP in subsequent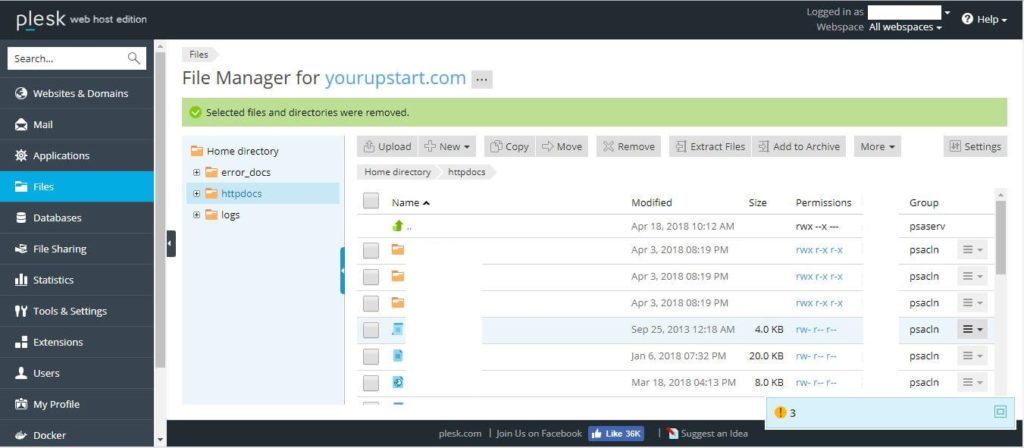 Process 5: Create your database by clicking on the database menu and after that click on the domain name. Generate table name, username and password. Use the same credentials during installation. Run the installation by simply pointing to the URL. I have used yourupstart.com. Input the credentials and run the installation. Fill-in all the site information details including the username and password for logins. The admin is accessible through your domain+/wp-admin for example, my admin panel is yourupstart.com/wp-admin.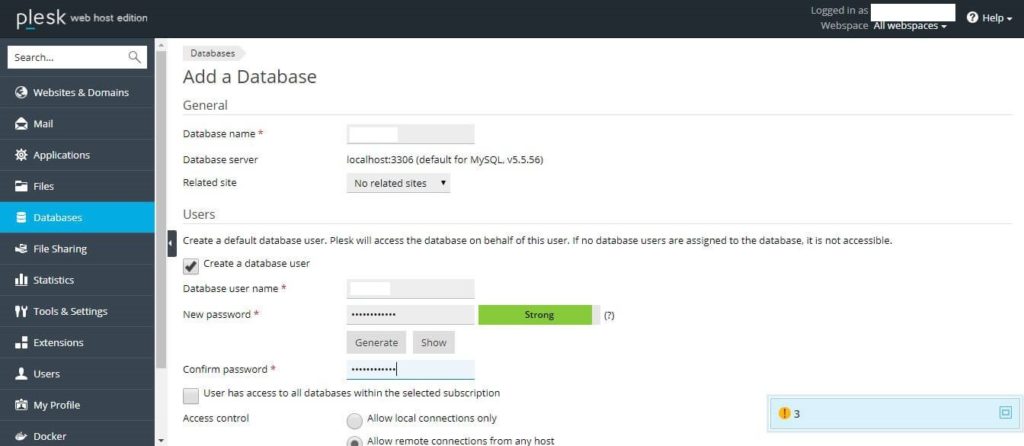 Process 6: Your WordPress blog is complete and ready for posts and customisation.
Please check the essential WordPress plugins and customisation chapter for more details.
In the subsequent chapters, we will explain you about the tips and techniques for blog posts and make it ready for the users.
If you are stuck with any setup, please comment below, and we can help you to solve any issues. Also, with a minimal charge of $100, we provide hosting setup and WordPress installation service.